The days are becoming shorter for those of us in the northern hemisphere. And for those of us in California and many other places in the U.S., we're finding ourselves nesting more intensely than maybe we ever have.
And on the ground, here and there, dry leaves remind us that we all begin fresh, conduct the wind and eventually rest. Whether we are willing or not, life offers change in abundance. It's the very essence of life and it's always a gift. Often, we don't realize its worth.
Until we pay attention to what we've learned.
Last year, I wrote a series of poems to say thank you to all this beautiful life has afforded me. Becoming sensitive to life's ever treasure meant that I no longer needed to be so sensitive to my thoughts and emotions. I gave them to life. Life gave me love.
This, I think, is an important truth for all of us to share. So I published the poems.
If you enjoy life or poetry, maybe you'd enjoy this little book. It's called 33 conversations between you, me and god. Or maybe you'd like to share some kind thoughts with someone else, to encourage them to grow sensitive to every beautiful moment of life. You can snag from me by sending a note below or you can order online. Either way, 20 percent of the profits are shared with PATH, an organization supporting those who are looking to find stable housing.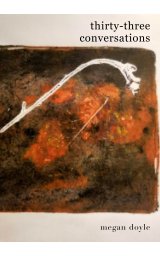 33 conversations between you, me and… By megan doyle

Thank you for moving through every cycle with me and everyone you know.